To all my friends, who take their time following my blog- I am so sorry for doing ABSOLUTELY NOTHING in the last month, just couldn't get inspired. I re-aranged my sewing workshop, resulting in a pretty room and no action. All ideas I had just before somehow didn't feel right ( oh yes, I am talking about the
5/2011 dress
)
After trying one with a fitted top and a full skirt in one of the shops I finally had to give up the idea. I am a small pear shaped woman, who's legs are shorter than I'd wish for, plus they are much heavier on the thighs not to worry about what you are wearing. As the problem only came to me in my thirties, it took an additional 5 years to admit, that I should stay away from the body hugging skirts and dresses. But a full skirt has it's cons as well- it just makes my bottom look massive.
In general, for a shape like mine the flare is necessary, but it must be controlled. Classy A-line, smart pleats, straight, but not tight shapes, plus building up at the shoulders. Liking the modeled version of a pattern is not enough- "dress for your shape" approach is paramount.



Yes, you must try things on and play with different ideas. One of them - boxy shaped garments, like my recent Burda 2/2012 dress, was a bitter experience. All this effort to hate the way it wears -all my remarks about the neckline being too wide and the front side parts giving a very unflattering shape to the bust, plus absolutely silly shape overall. I know there were a good few comments approving the dress on the photo, but in reality it just didn't work at all. So it is in a re-make pile, gladly the front and back pieces are quite large, and I have lots more of this fabric- so something better will be done with it eventually. But no more baggy styles for me.
Now I am dying to get back in action and there are a few ideas where to start. ( Now whether they will come to life is hard to foresee, considering that brainstorming is what I have been doing most recently without any actual making LOL)
I have found this lovely Simplicity 6067 dress. Nice loose skirt to hide the thighs and beautiful darts at the front to show off the waist and bust. Gorgeous.
One small problem though- my last experience with simplicity patterns was a fiasco! Or I should add that Simplicity regularly publish their pattern in a Russian sewing magazine called "Diana Moden" and I had a downloadable version of that magazine. Scaling was a major issue- the printer's option not to scale still printed the pattern sheet out wrong. When I thought I finally scaled it to what it should be, I made
a tunic
, but it looked awful - nothing like the modeled version. The solutions for 6067 are
to make a muslin OR
Buy the original pattern here
use a similar Burda magazine 11/2011 dress pattern 123 and play with it a little:
The Burda dress has a great skirt too, but the V cut is way too low- I like the Simplicity's version much more for practical reasons. For those who want to use New Look 6067- check out some
PatternReview.com
reviews: also very helpful :
Vacuuming The Lawn
, and here is one from
Beck and Lundy
As for me - I just bought the original printable pattern and will definitely start and , naturally, review it soon.
And here is another inspirational dress I found online:
It is so simple and elegant- love the sleeve panels on it and the wrap effect on the front of the bodice. There is a perfect pattern for it ( it will need alteration, but great to use as a base) : Burda Magazine 7/2011 - 110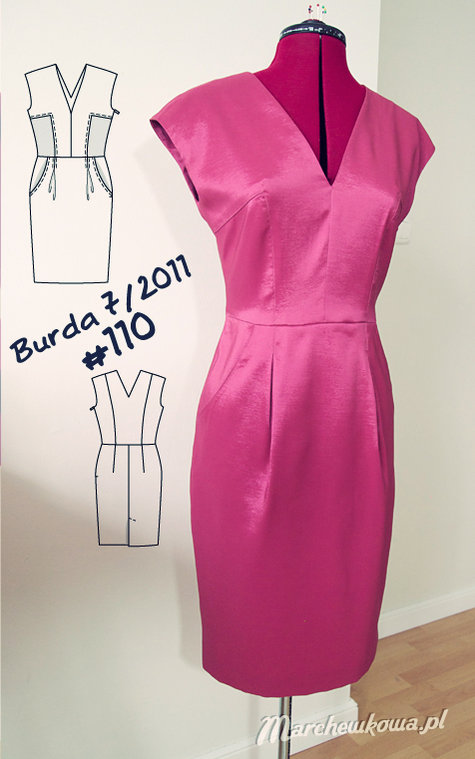 (This pink version is made by Burdastyle.com member
kokuryu
)
Another dress I have in mind for the spring/summer season is a front twist dress from Burda 3/2012


Unfortunately, it is drafted for tall sizes. Fortunately, I just read a review by the
Selfish Seamstress
and apparently it might be ok as is for a short girl like me)))) Yay! I will say no more- go and read her story.
As for me, I just hope I will get to make it soon!
Some more inspirations for the future:
Vogue 1154
Misses strapless dress:
More on a casual note: a pinafore dress 121 from Burda 9/2007. Made from a less stretchy fabric, it actually turns into a great cocktail dress.