Lately I have been thinking a lot about the direction my dressmaking addiction should take. Self-drafting patterns seam to be a great challenge, but being able to make it on my PC instead of drawing table seems even more appealing to me. Still, the importance of understanding the principle of pattern drafting is crucial.
I purchased
PatternMaster Boutique v4
a couple of years ago. The software allows to input your personal measurements and offers a choice of garment/detail styles to combine and get your unique style, which you can then save, edit and print out. Sounds good, but there are a few things that stalled me in my work with this software.
First of all, there are fitting issues. It is not that straightforward. When I put in my measurements, got my custom sloper prinetd out and sewn it, it just didn't look very good at all. (there photos are taken in 2008)
The issues were with excess fabric around the waist and the armholes, it just looked bad. The good thing about
Wild Ginger
- the producers of PMB and many other useful sewing software is their incredible customer support. They have a huge forum and any questions is answered within a day or two, and you can also email them directly.
When it comes to a sloper fitting, you have to take three pics (like above) and email them to Karen from support team with your measurement chart. I did just that and she emailed me back the adjusted chart. the idea is to adjust your measurements values until the sloper fits well, and then use the saved chart for the further designs.
Well, I didn't make another one, simply escaping to the inviting and familiar sewing magazine's patterns ( which still always need alteration). I have left the program alone and ended up uninstalling it.
Making a Gwyneth skirt has been a revelation to me. My sewing magazine odyssey is definitely coming to end- I have too many of them, huge stacks, but my mind keeps wandering elsewhere. If I have to alter every pattern , yet still not always the fit is good, why not learn drafting my own patterns at last! Even troubles with fit in PatternMaster could be easily corrected with such knowledge, bypassing all the paperwork!
Then I saw the
RTW contest banner
, and through entering I reconnected with my interest to draft my own patterns on a CAD pattern making software.
I went back to my software stash and re-installed PMB4, dug out the instructional video from a class I took on their pattern editing software.
After watching it once, following the class instructions, I realised I am more familiar and fluent with it than I thought I would be. I easily drafted my own Gwyneth Skirt pattern. (This was after I actually made the skirt- I used Burda pattern to alter the paper version for the original.) I found the way to save it as a PDF and straight away uploaded Gwyneth Skirt pattern on Burdastyle.com- it felt great!
Originally, I used my own measuring chart, but for downloadable PDF I used Burda size 34 standard measurements. It all seemed to work great. the pattern didn't look as good as Collette's (hahaha, dream on sister!), but it looked better than some hand drawn ones. It had very good pie-shaped markings to put the pattern together and row and column numbering, which will make alignment very easy. However the footer of each page said.:TempPrint.las and there was no way to change it into the name of the pattern at all. It just wrecked my head!
After contacting the support team, I learnt that my version of the software is way out of date, so these kind of things are not fixed anymore. Their new version, PMB v5, has that and a lot of other issues sorted. So I took my credit card out and bought an upgrade. ( Thankfully the price is way lower for an upgrade- but then I paid the full price for version 4 a few years back.)
In spite of me promising myself to be very careful with unnecessary spending, this seemed to be a worthy one. (Especially after a serious research into other pattern making programs- more professional ones are very very expensive. Cracked versions online are infested with trojans, so I am not going to risk losing my Pc to that!) The footer shows the name of the pattern, and you can use different line styles to use on multisized patterns. So the Gwyneth skirt pattern has been updated
Obviously there are a few fashion design programs on my wishlist for the future: The
PatternMaker
looks great for my needs, however the version that allows grading multisized patterns is a $1199 !!!! And it is not even the most expensive one.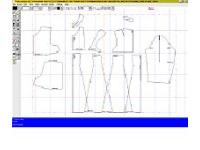 Marvellous Designer
($199) is fun, you get to make a dress on a 3D avatar- completely unconventional approach, but not sure what kind of flat pattern quality it produces, very little information available- I have a trial software, which will expire in 28 days, so I have some time to check it out.
Of course, there are FashionCad, Optitex and Accumark - the Daddies of the CAD pattern making world, but they are very complicated for my current needs.
(And, of couse there is this lad in Morocco, who claims he can sell me any of those, fully functioning for £350 and throw in a free one of my choice)
I am now working on a new pattern inspired by
House of Pinheiro, recent Betty Jackson paperbag skirt project
, and it will also be available for free download, so stay tuned!
©2012 copyright Sewing And Style.
All rights reserved.
All images and copied text must have a link back or reference to Sewing and Style Den