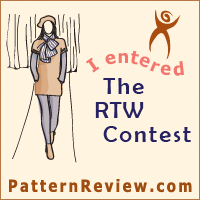 Yes, i did. The idea is very simple: find a Ready To Wear item you adore and make one just like that yourself. I was delighted to see this contest as I have just such thing for it: The Willow Skirt!
You might remember it from last year, however the original blog post mysteriously disappeared (???) - don't know if it is actually for the best, as I didn't really like the photo shoot- it was all vampy and sexy-bothering-on-sideofaboullevar-ish!
Just to refresh the memory, I once saw an asymmetrical ruffled skirt by Australian designer Willow on net-a-porter.com I loved the ruffles and the concealed by ribbon zipper. The skirt had no side seams, it just skimped over the curves and fastened in the front.
I drafted my own seamless pattern, using an old pencil skirt pattern, and also a ruffled patent leather trim instead of the petersham ribbon, simply as I couldn't get one soon enough- I just couldn't wait to make this skirt for myself! Although it really worked, I reckon. The fabric I had was a wet look black shiny jersey, kinda PVC looking, but quite thin. This fabric is tricky- as it does come with a certain industry hint and not really suitable for casual use (unless you casually wear it on the side of the street, looking for some "Pretty Woman" sort of work).
I only had 0.7meters (150cm wide) for this project, so I had to risk compromising the length. On the other hand, longer skirt of this kind would make me look very short, it is modeled on a very tall mannequin in all fairness, so I opted for a challenging MINI look.
Unfortunately, as I just found out this entry would have been no good, as it has to be made during the contest period ( 1/04/2012-30/04/2012), so I am left with a dilemma- what to make for it. I'd like it to be something I will be wearing too- so off I go surfing the net, looking for inspiration. Hope I find it soon-wish me luck!