Kick-started with the last project, my sewing life is revived. A couple of small adjustment, not really worth blogging separately about, yet, those make me very happy as finally, some of old ideas are coming to life, like adding a lining to my 2011
Up In The Air Coat
. And more inspiration to tackle the mountain of fabrics waiting to be used. I could have been doing just that, but it looks I am not the only one with some creative energies flowing- my darling husband decided to re-paint the house today, so with the front door and the windows ( one in my workshop) wide open on a cool spring day, maybe sewing is not the best idea- easy to catch a cold, constantly changing and trying things on.
So I tuned to my good old friend- Internet- instead. Last week I was looking through my burdastyle account and saw a few free patterns that I saved, particularly funny was to realise their Kasia skirt was saved the whole 4 times! "If this is not a sign...." I thought and hit the print button.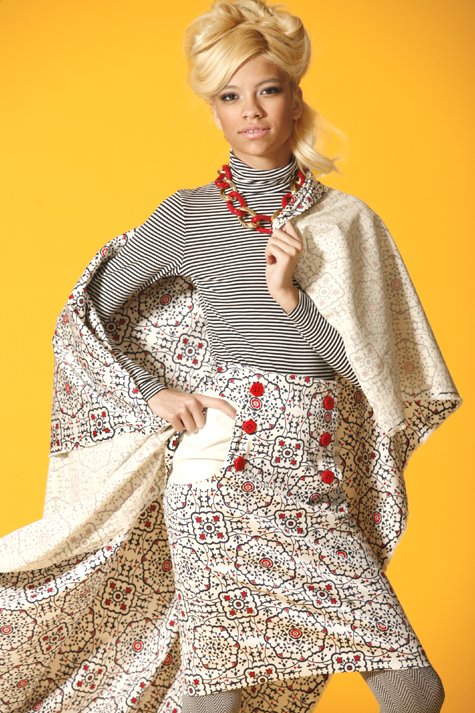 But before making it, as causal, I love seeing the ready made versions, and gladly over 150 projects were available for scrutiny for me on the same site. So this is exactly what I am up to while my hubby is painting away (totally new colour, by the way, I am soooo excited, only took him 10 years :)
Here is my big problem with Kasia project on Burdastyle: the model they used looks like a streak of misery (sorry, chicken, you are gorgeous, but few of us have that lanky shape) So looking at this picture, realistically, you can be sure it will suit you if you have no curves and very very skinny.
Unfortunately, while looking at the finished projects, this is far from the reality. Burdastyle girls are mostly real shaped, quite often pear-shaped and apple-shaped and in general curvy enough, to be considered while modeling the patterns.
I am a true pear- much narrower shoulders width in comparison to the hips and larger than I would have hoped to have thighs. And don't judge by the pictures- my bones are tiny, but it does not mean that I could pull off wearing a tayto sack- the shape makes some styles look horrendous.
Ladies, do not ever listen to encouraging comment from your so called friends. If you feel something is wrong- probably it is. Seek highly trained stylist advice (Which can be available to you free in a good boutique. Those stylists know intuitively what works for your shape, especially with experience. I am currently marketing a Mother of the Bride Boutique where I see the girl working in the shop giving fantastic advice to women. Remember, in general these customers are older ladies, way past their perfect shapes. And no purchase necessary. Just make an excuse that you want to think about it, take all on board and run back to your sewing corner to make something fabulous!)
So Back to Burdastyle. Most of Kasia versions I found unflattering. This pattern, I think requires a quite narrow high waist, and a couple of certain tricks to make it a top class stylish number!
Here are my suggestions:
Reduce the gathering on the side panels, in fact maybe eliminate the gathering from the back parts altogether.
Use contrasting fabric, but not drastic, more tone-on-tone solution, with side panes in a darker shade.
Definitely extend the different colour all the way to the top!
Bright piping can work very very well, again bring it to the very top- it will make you look slimmer.
I think it looks best as a mini , or add a bit of flare and bring it to just below the knee ( a great wool version on the top right shot of the collage. To wear with knee-high skinny boots or socks and pumps like this brave seamstress
Well, after all this, I better made a stunning skirt. Well, I hope so. The fabric will play a crucial part- I think it must be quite soft. So I need to dig into my storage and see if there is anything suitable. Will keep you posted! Chiao!
©2014 copyright Sewing And Style.
All rights reserved.
All images and copied text must have a link back or reference to Sewing and Style Den