COLD is the word. Cold is how I feel every second of the last few days. Who could have imagined two weeks ago, when we were all baring ourselves to the sun at 20°C, that we would be able to see our breath outside at night a few days later??? Well that wasn't me- foolishly, I was sure that the "Irish summer" is here (it always is lovely, sunny and dry around Easter till end of May)! Foolishly, I packed away my winter coats and even more foolishly- in fact, unforgivably, I didn't top up the home heating oil, having decided we would not need it until later in the year!
A Rookie Mistake!!!!
Because it is COLD. Tuesday night it SNOWED. I am battling a very nasty flu and just cannot get warm in the cold house ( oh yes- and I did, in the spur of a moment, spend all the oil money booking a summer holiday). I suspected that my bedroom is very poorly isolated and now I really know how badly- it is like sleeping outside.
And here I am taking full advantage of my staffie Harry's (free of charge and with a bonus of some serious TLC) body heat, curled up under a furry throw on the couch, talking nonsense when I could be making my little sewing dreams come true! How typical! I think I am born to live in a warm climate- this is driving me nuts!!!!!!!!
Especially, because there are a lot of plans and ideas.
There has been a nice arrival in the post yesterday: Cynthia Rowley's patterns for Simplicity: dress 2497 and skirt 2512
I am a sewing magazine's addict- I don't really purchase patterns very often, but I simply loved the skirt, especially featured in
House of Piheiro's OWOP
Challenge. So did my daughter, who I really want to get involved into dressmaking, and as my grandmother and my mother did in their time- I think it is THE TIME to pass the secrets of the trade to the next generation. I was looking for both a tulip and a wrap skirt for a while and this pattern seemed perfect. My daughter loved view D (just like the one on the left) and I would love the view A to suit me, when it is made!!! Please!!!!
Plus, I found a company online, based in the UK, that offered more than reasonable price for those patterns, so I added the 2497 dress in too. And here they are! Chantelle is tracing the D view as I freeze….. I mean, as I type )))
The dress looks lovely on the pattern cover, but since I got the actual envelope, I am having serious second thoughts about it. It seems to suit a rather skinny frame with wide shoulders and a tall height, so look well, otherwise it has a somewhat clown-ish look to it ( I am deeply sorry if any of my readers made this dress and love it) It is merely how I thought it looked on most of
those real life pictures
- unflattering. Do I want to join that Gallery? Will I look good in that?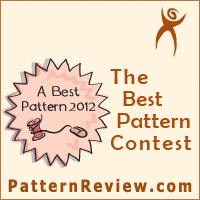 Well there is one more incentive to try: I just joined the
'Best of Patterns'
contest on patternreview.com and this pattern is featured among the allowed patterns. Well, I am tempted, but who knows- the jury is still out on this one.
Do you often pick a pattern that in hind sight is not flattering to your own shape, just because the model on the photo looks good. Unfortunately, I still do. And I really wish I didn't.
Another pattern included in the contest is Vogue Donna Karan dress 1220
Again, same reservations as Cynthia Rowley's dress: will it look good, or will it resemble a house robe, my granny used to own???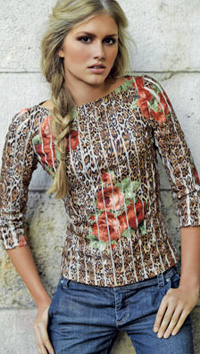 And there are also those simple tops' patterns like Burda Magazine 02-2009-108 "Knit Top with Bateau Neckline", making which for a best pattern contest simply puzzles me. This is just simply too basic. Or am I just arrogant? I am no Sewing Guru either, just wishing to be one day…
Anyway, I signed up for that contest in hope it will get me off the couch- but not while this cold spell is freezing my bones. Oh, I need the sun so much!!!!!
And not to forget the
RTW Contest
that I am in. I have an idea for it already, but this is a topic for another post.
Anyway, I hope you have Good Easter, everyone and I hope the warm weather will come back and all those plans will turn flowing into finished projects.
And don't forget to enter our APRIL GIVEAWAY!!!!!!!!!!!
Got to get out of this cold house tonight- going to see the TITANIC in 3D ( pack of tissues- check!)